Bitcoin Price Analysis: Bitcoin is Struggling to get above $12,000
After suffering from selling pressure, Bitcoin and other crypto coins are showing slight bullish sentiments. Bitcoin is currently trading at $10,723 with a 0.16% change in the past 24-hours.
Over recent days, Bitcoin is not exhibiting a positive trend and is trading under the pressure of a strong resistance level at $11,000. Buyers are unable to push the price higher. Yesterday, BTC bulls tried to go up but did not exceed even above $9,800. In a try to move up, the price then dropped to $10,600.
Some experts are bullish on top digital assets and expect a great move in the future. On analyst shared a mix BTC speculation with crypto members. He explained that Bitcoin may go down to but there are also chances of a bullish rally in the immediate future.
Current Trading Range: $10,500 and $10,800
Over a couple of days, Bitcoin remained busy in trading between $10,500 and $10,800. Another crypto expert also sees a breakout above $12,000. According to him, it can accumulate in the 9,000 range before going up to $12,600.
"BTC Monthly Outlook: Depending on monthly close, either we see some type of accumulation in the 9000's range before we end up eventually break above $12,500 and flip that key level… Anyways, $12,600 gets broken at some point in the next 6 months and I think we see new ATH's."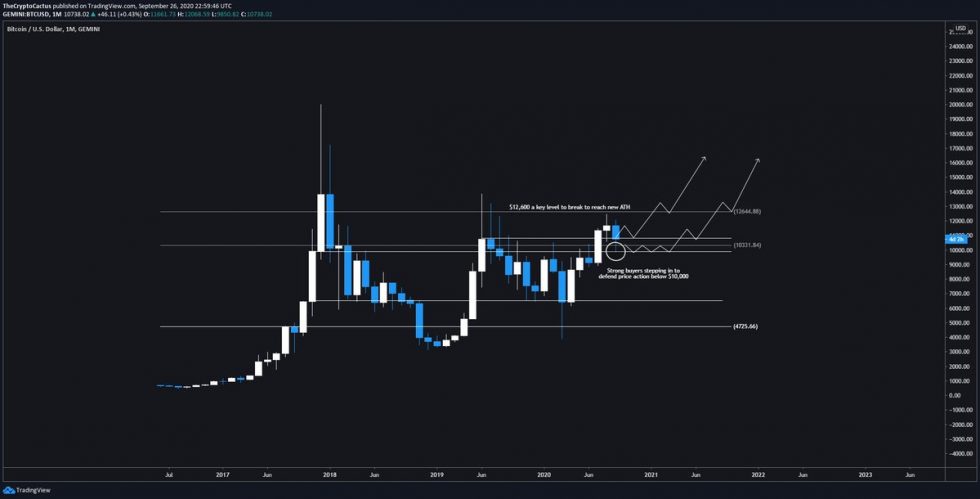 In the recent week, the funding rate remained low which is a negative signal. But the funding rate could pick up the pace leading Bitcoin above $12k. Crypto trader with the name "Byzantine General" stated in his tweet:
"First of all, there is funding. One of the best indicators to gauge market sentiment. After the drop from 12k it has been consistently negative or baseline at best. Secondly, we have the contango index. This shows the difference between the price of SPOT exchanges & derivatives exchanges. When SPOT has higher prices the indicator goes lower, into the green zone. A consistent premium for SPOT exchanges is considered bullish."