BTC Sets A New Hash Rate Close To Its 13th Anniversary
On this day, 13th years ago, Satoshi Nakamoto (Bitcoin's founder) mined the first block on the bitcoin network with a reward of 50 BTC. Today, the BTC network continues to rise in popularity and adoption. Today, it even set a new peak hash rate at nearly 208 exahashes per second (EH/s).
China And BTC Hash Rate
This rate had taken a nosedive following China's ban on all crypto-related activities. Since most crypto miners were based in China (before the ban), the ban led to a significant reduction in miners, which also caused a decline to the BTC hash rate, falling as low as 58.47 eh/s at that time.

BTC hash rate seven months ago. Source: Ycharts.
However, the hash rate started rising gradually after migrating miners from China found friendlier climes to resume their operations. On new year's day, the hash rate of the leading cryptocurrency rose to a new peak of nearly 208 EH/s. 

01/01/2022 BTC hash rate. Source: Ycharts.
However, the hash rate has declined by 8% since new year's day. It is at 190.65 eh/s as of this writing—a good development since it improves the digital asset's mining difficulty and solidifies the network's security.
More Private Investors Invested In BTC Last Year – Willy Woo
On-chain crypto analyst, Willy Woo, has revealed via Twitter that more private companies invested in BTC last year than all previous years. "More public firms have increased their BTC holdings after MicroStrategy's 'BTC for companies' conference early last year."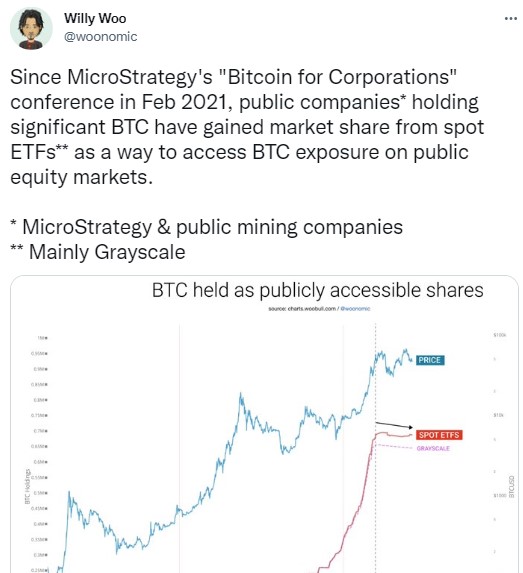 Willy Woo Tweet. Source: Twitter.
As previously reported, MicroStrategy made the highest crypto purchase among all asset management firms and now has nearly $6.5B invested in digital assets. Last month, the company increased its BTC holdings with an additional 1,915 BTC valued at $95m.
The Bitcoin Domination
BTC retains its position as the leader of other digital assets following the rise of its hashrate to new levels. This past year, BTC soared to new heights, trading for nearly $68K in one of the months of the year. Even though it never traded at $70K or $100K as most analysts predicted, it has broken out of a 3-year old pattern as the year 2021 wound up.
While many environmentalists remain concerned about the negative impact of its mining on the environment, it remains the darling of most investors. Also, many investors still look to invest in BTC regardless of its price because it remains the network that heralded the possibility of an equal world.
Currently, it's valued at $894B and has nearly 15k nodes. However, no one can accurately predict what will happen to this network and coin before this year is over. Despite the best efforts of the authorities to stiffen its growth, they are yet to understand this technology that keeps empowering more people with greater possibilities every day.
Meanwhile, El Salvador's President has predicted that BTC would trade at $100K before the end of 2022. While his prediction was in line with other analysts' predictions early last year, BTC price never got close to $100K. Instead, it rose to nearly $68.5K late last year before declining to trade at almost $47.28K as of this writing.