CHAINLINK Price Action For January 7, 2022
LINK currently trades over a crucial horizontal range. However, its trend direction in the long-term will depend on whether it turns bearish or remains bullish from hereon. Early last month, LINK turned bullish after hitting the $14 lows. This bullishness was important because it had established a higher low than its price six months earlier.
More importantly, it proved the signals right as the $19 level acted as support. Asides from July, when LINK traded below that $19 level, it didn't fail to trade below it throughout last year. Hence, if it trades below it now, it indicates that it is poised for a longer-term correction.
LINK Price Action On Various Timeframes
There are mixed signals on the short-term charts. The rising MACD, RSI, and other signals on the 24-hour chart indicate bullishness. The MACD is almost positive, while RSI is over 50 (the point that often denotes bullishness). Also, the coin now trades around the $22 horizontal region following a breakout from a dipping resistance line.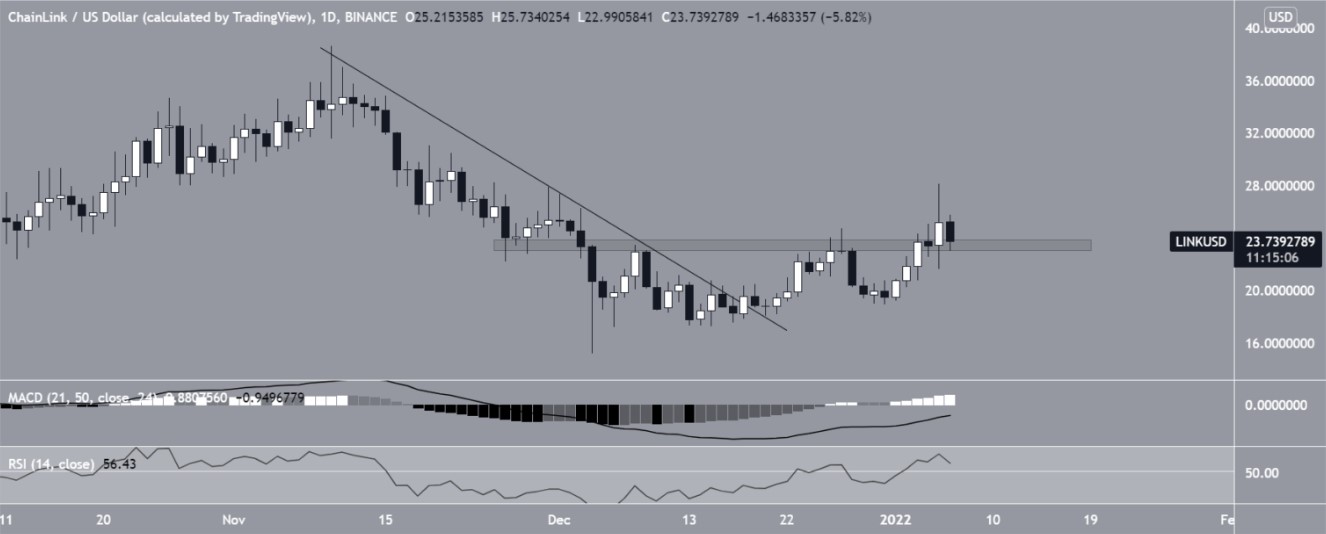 LINK/USD 24-hour chart. Source: TradingView
Conversely, the 4-hour chart indicates that LINK has fluctuated within the rising parallel channel since early last month. Usually, any coin trading within this channel is undergoing a major price correction.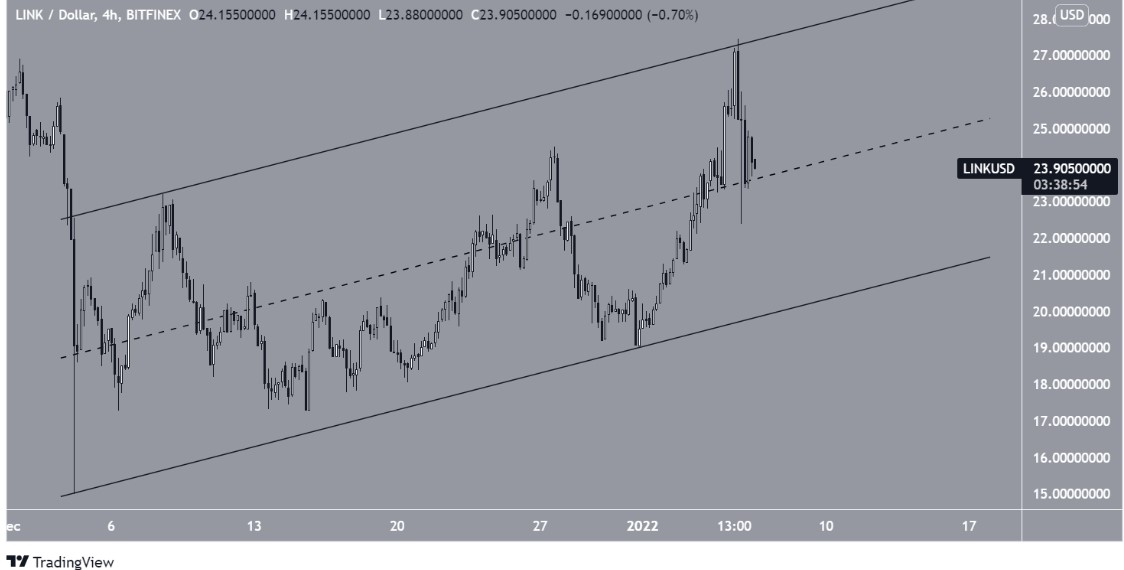 LINK at the midpoint of the parallel channel. Source: TradingView
Hence, a breakout will happen sooner or later. As of this writing, LINK is trading around the midpoint of this channel. A dip below this point would signify a selling pressure and a possible breakdown.
Seeking Higher Levels
Popular twitter crypto analyst and trader (@altstreetbet) opined that LINK has finished a corrective phase and will be pushing to hit crucial resistance levels. Using a tweet image above, the analyst explained that LINK had completed an A-B-C corrective shape, particularly as there is a crossover between the current and high and lows.
Your influencer is asking you to be cautious at the obvious bottom. While many alts are leading the market.$LINK https://t.co/e6whijlxyD pic.twitter.com/3ksAFzZidE

— ᴀʟᴛꜱᴛʀᴇᴇᴛ ʙᴇᴛꜱ (@AltstreetBet) January 5, 2022
Consequently, LINK's immediate resistance level would be the $42 region. But, LINK must not trade below the $15 level for this analysis to be valid. The readings from the short-term charts indicate that this possibility may not become a reality. LINK has been bullish since the start of this year, reaching up to $27.7 two days ago, but as of this writing, LINK trades at $24.17.
ETH Whales Buying More LINK Tokens
Whalestats data has revealed that crypto whales have been accumulating more LINK tokens over the past 24 hours. The data confirmed that nearly 840m LINK tokens (valued at about $22m) had been purchased within the period mentioned above.
 The data identified eight whale transfers, with six done by a 35th-ranked Ethereum whale. One of the remaining two purchases was made by a top three Ethereum whale who bought 2m LINK tokens (valued at about $4.84m). The last whale purchase was by a 293rd-ranked ETH whale who snapped up 1.24m LINK tokens (valued at $2.95m). The data further revealed that among the top 1000 eth wallets it has monitored, LINK is the most traded digital asset.