Money-Back.com Tips On How You Can Deal With Crypto Scams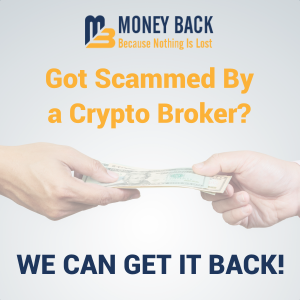 Cryptocurrencies are smart online currencies you can use to back transactions online. Beyond being used to support online purchases, crypto coins can serve as a form of investment where huge investors can make multiple returns on their investments within a short time. With the prospects of making significant returns on their investments, comes the blinding of people's eyes to the possibility of being scammed.
The concept of being scammed is while carrying out transactions online isn't particular with cryptocurrencies. In fact, before the arrival of cryptos, online fraud has been prevalent. Fraudsters have long continued to send scam emails to individuals, with the attempt to steal personal information of individuals and use them to perpetuate various kinds of crime.
Crypto coins like Bitcoins and Ethereum can serve as payment options without a go-between like banks, and thus no transaction fees would be charged for such transactions. But it's important to mention that these currencies and sales are not backed by any government or central banks, though it can exchange for even the dollars. And thus, individuals who don't want their transactions tracked would easily ask you to send payments to them using cryptocurrencies.
It holds that scammers can easily ask for transactions done using crypto coins since it's hard to track payments made using these coins that are not backed by a blockchain. Some fraudulent individuals go as far as announcing rumors of one financial institution or wealthy individual investing in a particular crypto coin. Their aim for such false stories usually is to raise interest in such currencies and enable them to make sales of their holding, and thus crash the market afterward.
Worthy of note is that unlike government-regulated currencies, virtual currencies are entirely supply-demand controlled. Prices of a particular crypto coin can be so high today that selling your coins is highly profitable, but by tomorrow prices would have gone so low you'll be selling at a loss. Prices are entirely unregulated and market controlled and entirely fluctuates uncontrollably.
Some of the techniques scammers employ, you must be wary of while transacting cryptocurrencies is what this article covers. You must be vigilant ot identify any scheme aimed at stealing your money in the name of investments in any form of cryptocurrency. It's not to say suitable crypto investments aren't available out there. Still, it calls for your carefulness to identify which investment is right and what you must avoid ensuring your funds are safely protected.
Never Accept Transactions not Backed by Blockchains
Blockchains are the platforms on which cryptocurrency transactions occur. On blockchains, all sales are regulated and tracked without stress. Anyone offering transactions that are not backed by blockchain calls for some level of suspicion.
The next, make some level of background search on the business or company you're committing your funds and transactions to and ensure they comply with minimum standards before releasing your funds. Ensure such organizations at the minimum adheres to things like initial coin offerings rules and digital currency liquidity.
Be Careful with Fake Initial Coin Offerings
Initial coin offerings are the amount of cryptocurrency or coin an individual offered to investors for investing in his idea, in exchange for white paper documents and funds they'll invest in his new project pending when it begins to flow.
For instance, when an individual meets you with their idea of starting a type of crypto coin and invites you to bring in funds to invest in their intended business. They may go on to show you white papers of how their new crypto will grow over time and be able to exchange there's an initial investment that'll enable them to start.
Some of these individuals, who are fraudulent and intend on swindling you would to on to promise huge returns on your initial investment within a brief period, that's usually impossible to meet. If you buy into such ventures, you'll be falling prey to scam plots that aim at swindling your money and leaving you without rewards.
Be Weary of Overnight Exchanges
Another scam strategy you must know is shady or overnight exchange. Suppose you want to trade your digital token for a better-performing coin. It sounds like the right way of increasing the profitability of your currency. Find crypto coins that are outperforming your current cryptocurrency and exchange yours for any of them.
But before you get your excitement high on this one, it's your responsibility to look for a legit and regulated cryptocurrency broker or exchange system. You'll highly risk losing your complete portfolio if you instead choose to deal with ventures that offer deals that just aren't feasible.
Make sure you carry out a highly required background check of any broker you choose to deal with for your coin exchange and upgrade. Otherwise, you'll hand over your low performing crypto to a fraudstar and lose everything you had.
Be Careful of the Wallets You're Using for Your Funds
It's not wrong by any standard to try to manage your crypto accounts using a wallet. It helps you quickly see the performance of your funds and how best you can deal with the continually changing market and not be at risk of losing your funds.
But with the fear of losing your funds to the changing market by managing your funds using a digital wallet, comes the risk of losing your funds to the digital wallet instead. A lot of fraudulent wallets find their way into the different app stores, and you can quickly get one into your system without knowing.
The need for extra care when downloading a digital wallet to help you manage your funds becomes reemphasized. It's unwise to have your funds vanish while trying to ensure higher profitability for yourself.
Look for Classic Phishing
Using this kind of scan just hopes to achieve a simple thing, which is using psychological manipulation to trick you into revealing your username, password, or billing information. The tactics commonly used are Punycode and fake Airdrops.
Simply put, the scammer sends you a fake link that'll enable him to take any information he needs from your profile. Naturally, this page looks exactly like a legit crypto-trading service. On top of that, your pot gets sweetened with a free Airdrop. In most cases, the fraudster even asks you to send a certain number of crypto coins.
You're highly advised never to click on any such links, which have many sweet things to offer to you in exchange for so many gains. It's always not valid to get so much value for so little investments.
Take Note of Social Media Engineering
Social media platforms are a great way to get to know investors. These are individuals and people ready to trade cryptocurrency. But as expected, these platforms are breeding ground for fake cryptocurrency traders and scammers impersonating.
The golden rule, however, never changes. If it sounds too good to be true, then it's most definitely a scam. It would also be in your best interest to stick to legit communication channels and avoid private messages received on Facebook, Twitter, or Instagram.
Tips to Avoid Cryptocurrency Fraud
The world is indeed a beautiful place. The world of cryptocurrencies is even an exciting part of the fascinating world. One important thing you must do for yourself is to ensure that you protect yourself from any form of scam targeted at defrauding you. Take special note of these points.
·         Research, Research, and Even More Research
The most effective way of avoiding being scammed of your proposed cryptocurrency transactions is pure research and more research. There are many crypto trading platforms available. Only adequate information will enable you to choose right.
So, to avoid being scammed, take your time to research the exchange platforms. Read their blogs, look at the conversion rates, gains, ICOs, over-the-web security protocols, and every information you can lay your hands on about them.
You may even want to take the extra step of calling up or sending an email to the support team or a company's representative to ask about their platform.
·         Figure Out a Way to Store Your Cryptocurrency
The buying and selling of crypto coin is only the first step in making profits from your investments in cryptocurrencies. The most critical next step is to spell out for yourself how you'll safeguard your coins. Currently, the two methods of storing your cryptocurrency include working through exchange platforms and using digital wallets. The one you choose to opt for is entirely up to you.
·         Know the Various Signs of Fraudulent ICOs
As you might have figured out by now, fake ICOs are a scammer's weapons of choice. Of course, none of this would be possible without someone naïve enough to believe them.
Anyway, in the case of ICOs, you can quickly figure out if the project's legit or fake by taking a closer look at the white paper for signs of forgery. Look out for such things as these;
Less-than-original whitepapers
No team members
Incomplete pages
Text inconsistencies
Staff reluctant to answer tough questions
Your Take Away
Remember that a fool is born every minute, never let fraudsters make you become one of the clowns. Read widely before joining any transaction platform, research thoroughly, get your act straight, and always pay adequate attention to your cybersecurity habits.
Learn more about getting your money back from crypto scams at Money-Back.com