Bitcoin Takes Down Tech Giant Tencent in Market Capitalizaion
Bitcoin reached an all-time high price of 51,000$ on 17th of February, 2021. Currently, Bitcoin is ranked at number 8 on Top Assets by market capitalization. And it is expected to cross the 1 Trillion mark real soon. One of the reasons for this impressive and exponential rise of Bitcoin is the big influx of investors from large scale institutions.
Bitcoin recently took over Tencent, a technology company owning different gaming services and multimedia platforms, and made a statement in the market by crossing $950 Billion. Tencent now stands at $930 Billion market cap. The margin between Bitcoin and Google is comparatively thin. But the market cap from 7th rank onwards is fairly handsome. Gold, naturally, being on the top with $11.281 trillion market cap decreased in price value over the month. Although the second metal (silver) on the list is hovering above Google. The rest of the list includes corporations like Apple, Saudi Aramco, Microsoft and Amazon.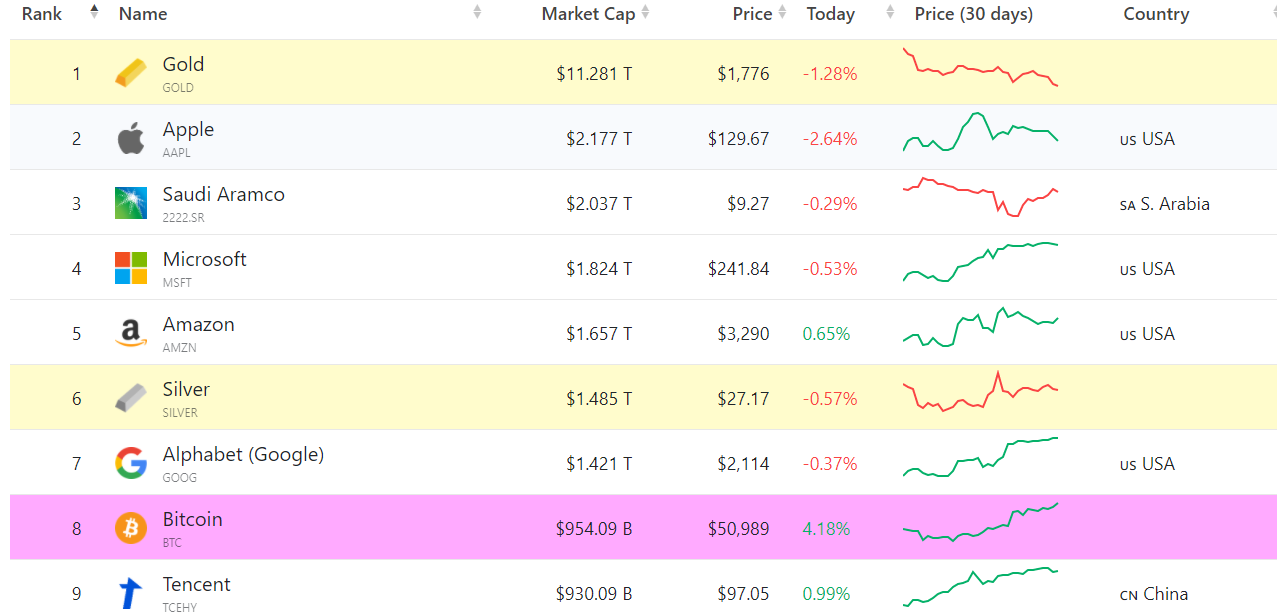 Via Companiesmarketcap.com
Bitcoin might have replaced Tencent very easily on paper but the Chinese conglomerate is not an easy contender to be replaced. Tencent not only owns the world's largest web portal (QQ.com) but also has stamped its name in the gaming field. WeChat, China's go to communication and messaging app, believe it or not is also owned by Tencent. Before Bitcoin's sensational rise, Tencent was also the first Asian Corporation to reach the milestone of $500 billion. So, Tencent had its fair share of achievements until Bitcoin became the new sensation in the market, currently occupying the 8th rank.
Next Target
But it does not end here for Bitcoin as the next potential corporation to be shadowed is not far away. Google, currently ranked 7th, stands at $1.421 trillion. According to Bloqport analysts, at $75,000 per coin, Bitcoin would also be able to surpass Google. With big names like Tesla investing generously in Bitcoin, the cryptocurrency king will keep on weaving and conserving the dollars at an impressive rate. Judging from the rise in speed and mass investments in Bitcoin, Google might not remain on that spot for long.
At press time, the top digital currency is exchanging hands at $52,392 after an increase of 8.48%.