Daily ETH Burn Sets New Peak Record
Until the implementation of EIP-1559 during the London hard fork of august 2021, ETH users couldn't pay fees using burned Ether.
Implementing EIP-1559
But since the implementation of the EIP-1559, burning ETH has been a custom among ETH users. It has to be noted that 'burning ETH' is an act of reducing ETH supply permanently. Theoretically, the goal is to reduce the ETH supply in circulation – one of the objectives of the London hard fork. As DeFi platforms and NFT transactions rise in growth and popularity, ETH burning has surged to new highs. 
However, the latest Watchtheburn statistics show that ETH burned on January 10 is the highest ever in one day. The total ETH amount burned on that day was 19,425, which was higher than the 16,500 ETH burned on October 16 last year.

Daily burned ETH. Source: watchtheburn
The Rising Popularity Of NFT Platforms And ETH Burning
A graphical statistic shared by Alex Svanevik on Twitter revealed that DeFi and NFT platforms contributed the highest amount of ETH gas fees last year. Svanevik is the chief executive of Nansen, an on-chain analytics platform focusing on Ethereum analytics. Also, a Defiant data showed that nearly 2,800 ETH was burned on the popular NFT platform (OpenSea) between august and December 2021. The data further showed that the same platform consumed the second-highest gas last year.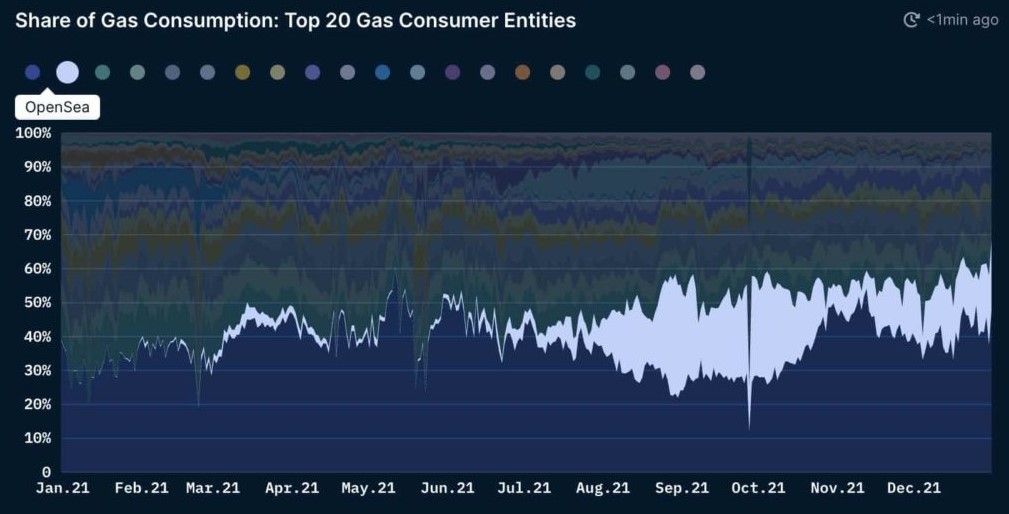 ETH gas consumed. Source: Nansen
A Dune analytics data also showed that this month is OpenSea's busiest month in NFT transactions. Thus, it makes its burned ETH reach new record highs even though the month isn't over yet. The graphical statistics above show the growth rate in OpenSea's gas consumption which can be used to estimate amounts of ETH burned since that time.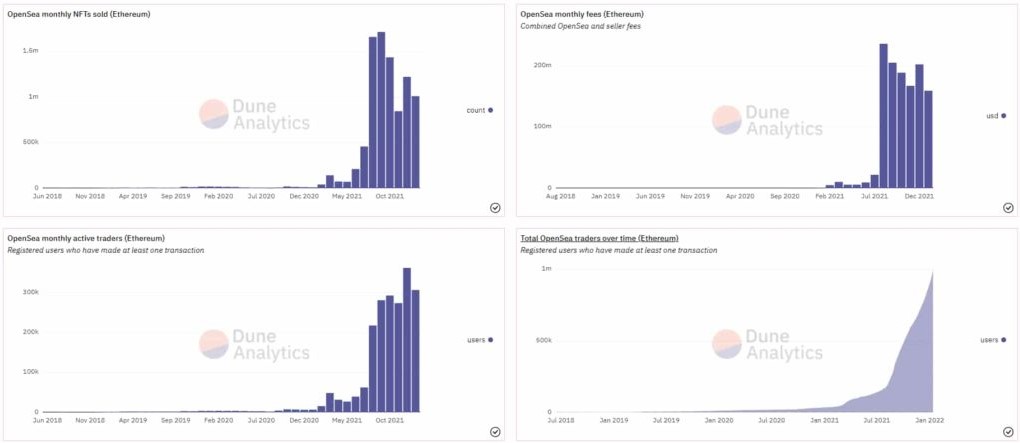 OpenSea monthly NFT transactions. Source. Dune.xyz
Hence, it can only be assumed that the new peak record for the amount of burned ETH will soon be broken as there is still room for significant growth in the NFT and DeFi space over the coming years. Despite ETH's huge gas fees for transactions, there would still be an increase in DeFi and NFT platforms using the ETH blockchain. Hence, increasing the possibility of a higher amount of ETH being burned.
Ethereum's Network Growth And ETH Price
ETH price has dipped by nearly 3.9% over the past 24 hours, and it keeps struggling at the $3.2k level. Some analysts opined that economic news might have been responsible for the decline in ETH price. Nevertheless, Santiment data has revealed that there has been a depletion in the network's growth over the past three months.
📊 So how does #Ethereum look now with prices sitting just under $3,300? Much of this downtrend can be attributed to inflation and the FED's. However, overly fearful sentiment and continued falling exchange supply could be a good sign. Read our latest! https://t.co/jXP9HmGuQP pic.twitter.com/7qP70y6Kyn

— Santiment (@santimentfeed) January 13, 2022
However, the data revealed that ETH's 'bad' price-performance isn't affecting its daily active addresses. Crypto analysts determine the activeness of any network based on its daily active addresses (DAAs) because an increase in blockchain usage is a result of rising DAAs. Furthermore, a decreasing supply of ETH on exchanges despite the poor price performance indicates that some investors are increasing holdings.