HFTrading Review – Trade With a Licensed and Regulated Broker (hftrading.com.au)
HFTrading Review

As an individual or business owner, you may have had doubts on investing money in financial markets via a trading platform. You may have even had doubts on what a trading platform is and how it works! Many people are in a similar predicament. Investing in financial markets (and above all, doing it right) can be complex if you don't have the right resources and tools.
Sign Up With HFTrading.com.au – Click Here
However, investing money doesn't have to always be that complicated! With the basics of financial markets, it's time to understand what a trading platform is, how it works, the benefits of using one and then choose the one that best suits your needs.
In short, trading platform is a software that facilitates transactions of tradeable instruments (e.g. Stocks, Bonds, Mutual Funds, Derivatives, Forex) as well as facilitates investment portfolio management, all done online without having to engage a financial service provider or an investment manager.
Traditionally, transacting in financial markets invokes images of bustling, paper-strewn floor of exchanges in which only licensed brokers were able to transact. These images are now out of date, as almost all the dealing once done face to face is now handled via computers, often with minimal human intervention.
This is where the trading platform comes into play. Trading platform functions as an online financial service provider, allowing you to research, analyze, transact, without having to engage financial service providers.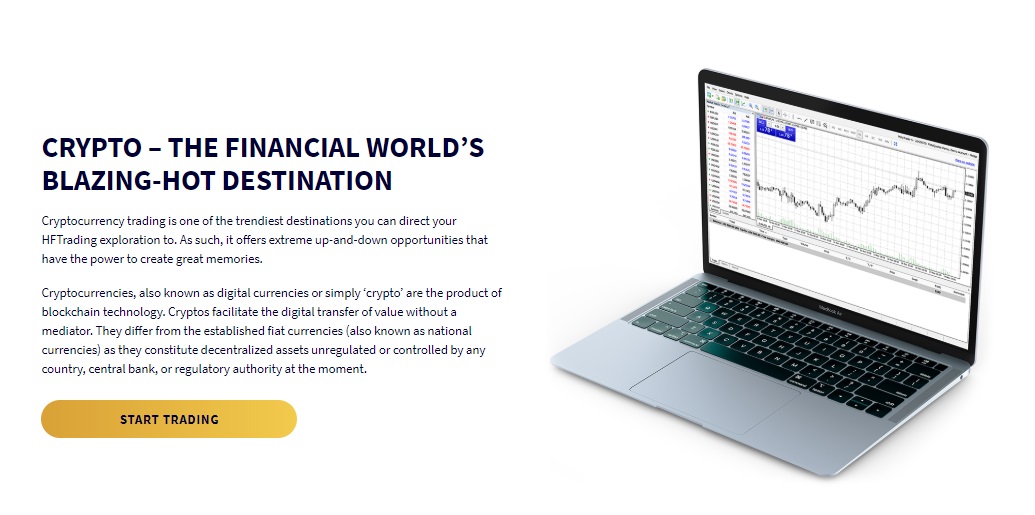 Overview of HFTrading platform
HFTrading is a regulated financial services provider that provides a professional trading platform. The platform offers substantial range of trading instruments to traders online through a well-known user-friendly platform – MetaTrader 4 platform (MT4). MT4 is accessible on desktop and mobile devices providing active trading conditions with flexible account options suitable for various type of traders.
HFtrading platform was introduced in 2020 and is a very innovative online platform, which offers access to a wide range of global financial instruments, these include multiple asset classes of CFDs on Forex, Cryptos, Stocks, Commodities, Indices and more. HFTrading is always striving to bring the financial markets around the world to its clients.
HFTrading platform provides a range of benefits, which include innovative trading tools, useful mobile trading app, demo training account, educational resources, analysis tools and news alerts, as well as trade execution speeds of an impressive 0.05 seconds. Spreads from just 0.1 pips whilst leverage of up to 1:400 is available. HFtrading platform operates with a policy of non-dealing desk (NDD) execution model. This means that trades are rapidly passed through to the liquidity providers (LPs) without any dealing desk interventions.
One major feature of the HFTrading is the unique and advanced inventions that are constantly adopted with high-tech analytical trading tools which provides clients with trading conditions for optimal trading achievement. On the issue of security, the HFTrading platform uses both encrypted transactions, strict firewalls, and SSL technology to keep client's transactions safe. The HFTrading platform is focused on providing an enabling condition for every trader to concentrate on their trading.
HFTrading currently only accepts clients located in Australia and New Zealand. HFTrading's services are not made available to people who live outside New Zealand or Australia.
Unique features of HFTrading platform
Variable Spreads and Leverage
HFTrading platform offers its users variable spreads and leverages. The magnitude of leverage offered to clients is dependent on their account type. HFTrading offers its clients the option of three account types to select from –  Silver, Gold, and Platinum. The Silver Class Account is normally for novice traders, while the Gold and Platinum Class Accounts are for traders who have prior experience and knowledge of the financial markets.
These accounts have distinct leverage levels, traders using the Silver Class Account receive maximum leverage of 1:200 while professional traders signing up for the Platinum Account receive maximum leverage of1:500.
There are diverse platforms and tools available on HFTrading platform. Users registering with HFTrading have access to the world-class MT4 platform, which is accessible via computers and mobile devices. The demo MT4 web platform is available through the client interface which can be activated through a request to your account manager to activate the demo desktop and mobile applications.
The trading platform from MetaQuotes is available on all browsers including Android and iPhones and supports Windows, Linux, and Mac operating systems, providing you access to a large cache of various tools on one of the most user-friendly CFD platforms.
One of the pressing concerns for traders is parting with their profits to pay out high commissions and fees. With HFTrading regardless of the financial instrument or the trading quantities, the primary users trading expense is limited to the bid-ask spread.
However, clients opting for the CFD financial services will have to incur subsidiary costs in the form of fees. These fees include the swap fee, typically charged on overnight positions. Most financial service providers usually pay clients a swap or interest counting on the asset and the direction of the trade. HFTrading charges a swap fee on all open positions at midnight (GMT+3) daily. Clients with Gold and Platinum Class Accounts qualify for  25% and 50% discount on the swap charges respectively.
Traders must be well informed on trends and financial markets procedures in order to make profitable trades. HFTrading provides excellent resources to educate traders on the various perspectives of the financial markets. These resources are elaborate and covers everything from the lexicon of financial terms to eBooks as well as tutorials that are available to traders on the HFTrading platform.
Resources include:
             Video-on-demand – short audio-video contents for both novices and advanced traders covering various topics on market parameters such as market analysis, chart patterns, risk, trading style, and many other topics.
             E-books – online reading materials containing illustrations using pictures, graphs, images on strategies especially for beginners, trading psychology, capital management, technical analysis, and many more.
             Courses – courses in the form of short films on various subjects, e.g. overview of the markets, CFDs, trading strategies, social trading, which are aimed at helping beginners to gain ample insight into the features of financial markets.
             Tutorials – guides that assist in familiarising with all the features of the MT4 computer and mobile applications. These tutorials are vital for beginners and for those not familiar with MT4 or require assistance with the procedures or tools.
             Other materials – Several other educational resources and helpful materials are available to clients. Apart from educational resources, additional materials, e.g. live global economic calendar and the earning's reports of listed companies, are made available to aid trading on HFTrading platform.
HFTrading offers unrivalled customer service and strives to offer you the best possible customer service and support. HFTrading customer service representatives are responsible, reliable, and friendly. Clients can easily access the HFTrading platform's customer support through live chat, phone, email. Another quick means of reaching out is by simply filling and sending out the Contact Us form. HFTrading's customer care support channels are open from 12 AM to 11 AM GMT, they are available Monday – Friday.
Clients are able to reach out to the management team if they are dissatisfied with the services provided  by the customer support team.
HFTrading offers account options to suit the financial capacity as well as experience level of clients, i.e. beginners, advanced, professionals. The different accounts have distinct spreads and leverages offered.
HFTrading account spreads begin from 0.1 pips whilst leverage of up to 1:400 is also available. Clients will incur a financing fee which is the rollover interest that is charged when holding positions overnight.
The account options are as follows:
Silver Class Account
This account is suitable for novice traders who are new to the trading environment. This account helps the investor to familiarize themselves with CFDs trading environment. Key features / benefits include:
             Minimum deposit required is $250.
             Offers 2.2 min spreads.
             Maximum leverage is 1:30.
Gold Class Account
This account is suitable for advanced traders who are familiar with financial markets, trading process as well as trading environment and some of its technical aspects. Key features / benefits include:
             Minimum deposit required is $250.
             Offers 1.3 min spreads.
             Maximum leverage is 1:400.
             Can apply hedging trade strategy.
             Swap discount of 25%.
Platinum Class Account
This account is suitable for professional and experienced traders with long and successful career within the financial landscape.
Key features / benefits include:
             Minimum deposit required is $250.
             Offers 0.7 min spreads.
             Maximum leverage is 1:400.
             Free VPS.
             Swap discount of 50%.
Demo Account
HFTrading platform offers demo accounts for clients. This form of account helps traders to rehearse their trading patterns and strategies. Another benefit of the demo account is that it helps clients get acquainted with the platform using virtual currencies for trading activities.
Fast and Efficient Deposit & Withdrawal
Occasionally, complicated means of payments pose a stumbling block to traders. With HFTrading, withdrawal and deposit of funds are made easy. Convenient payment methods are made available to traders including bank wire transfer, credit/debit card, and online payment systems such as Neteller and Skrill. It is important to note that restrictions may apply to these payment methods, i.e. not all funding options are available to all countries, and not all are used for both withdrawal and deposit.
Certain payment methods may incur fees. Withdrawal proposals are usually processed and activated on the same day, however, they may extend to the next business day, if the request was made outside working hours. Withdrawal time varies depending on preferred payment method and payment provider, e.g. bank wire transfers may take up to a few businesses days to be reflected in the accounts.
Likewise, other payment methods may have limitations on the rate of transactions and may also require additional information to be included as part of the payment.
Accounts can be opened in USD, AUD and NZD. The different currency options are beneficial as currency conversion fees do not apply when using an account of your currency.
Professional Registration Process
HFTrading sign up procedure is safe and secured. Prospective clients are required to fill up a registration form available on the website – which includes a questionnaire and personal information substantiated by KYC documents for verification purposes. Please read through the Terms of Use carefully prior to accepting the Terms of Use.  A member of the account verification team would confirm your registration and a confirmation email with account details will be sent. Congratulations! Clients may now login into their account, place deposits and start trading.
If at all, there are any issues, you may contact HFTrading's reliable customer support team for assistance.
High Risk Investment Warning:
CFDs are complex financial products and come with high risk of losing money. Most retail client accounts lose money trading CFDs. You should consider whether you can afford to take the high risk of losing your money. You do not own or have any interest in the underlying asset.
You should read our Terms of Use and our Product Disclosure Statement (PDS) before entering into any CFD transaction with us.
Please ensure you fully understand the risks of trading with leverage and take care to manage your exposure. You should carefully consider your objectives, financial situation, needs and level of experience before deciding to trade in the products offered by HFT. The contents of this page should not be construed as personal advice.
The information on this page is not directed at residents of the United States or any particular country outside New Zealand or Australia and is not intended for distribution to, use by, any person in any country or jurisdiction where such distribution or use would be contrary to local law or regulation.
Licenses:
1)            HFTrading is the trading name of CTRL Investments Limited ("CTRL"). CTRL is a New Zealand incorporated company (Company No. 2446590, NZBusNo. 9429031595070) and a registered foreign company in Australia (ARBN 152 535 085).
2)            CTRL is authorized and regulated by the New Zealand Financial Markets Authority (FSPR no. FSP197465) and the Australian Securities and Investments Commission (AFSL no. 414198).