XRP Whale Addresses Amass About 900m XRP Tokens In Three Months
XRP wallet addresses with at least 10m tokens have purchased about 900m XRP tokens (valued at about $710m as of this writing) between last December and this month. It is the second time such massive accumulation has taken place in the last half a decade.
Santiment Data Reveals It All
Data from the on-chain analytics platform, Santiment, which was shared via Twitter, showed that the first time such a vast accumulation of XRP tokens took place was in December 2020, when XRP whales increased their XRP tokens by more than 1.2b. Thus, pushing up the price of XRP tokens at that time.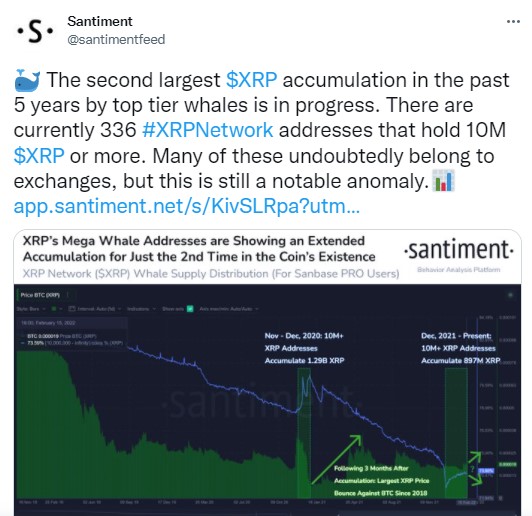 Santiment data tweet. Source: twitter
After the XRP price dipped from $2 to $0.80, many whales started accumulating more XRP tokens. Despite the accumulations, XRP token price still dipped to $0.62, but further purchases caused it to rise to $0.78. However, Santiment remarked that nearly 85% of the 335 XRP whale addresses belong to crypto exchanges that hold funds for millions of other XRP token holders.
Nevertheless, the analytics platform remarked that the accumulation still has a noticeable effect on the XRP token price and holders. Cryptoglobe data from last November indicated that XRP transactions surged by nearly 10M between October and November 2021. The number of XRP account holders surged to 238K following an increase of almost 12% in the number of newly created accounts.
The Battle With The SEC Continues
Furthermore, a November 2021 CryptoCompare report indicated a rise in the XRP network activity despite a 10.5% drop in the XRP token price in the period under review. Two weeks ago, XRP ledger addresses rose to a new peak which might be connected with Ripple (XRP owners)'s edge over the SEC in the legal case involving both of them.
The SEC has been locked in a legal battle with Ripple after it accused the latter of "selling unregistered digital securities and realizing nearly $1.35b from the sales' proceeds." When the lawsuit started, XRP's liquidity and the token price were negatively impacted as several crypto exchanges delisted the token out of fear of any repercussions from the SEC.
XRP Doesn't Constitute Security – Newly Unsealed Legal Memo Reveals
Following the presiding judge's ruling in the SEC vs. Ripple case, two of Ripple's legal memos have been unsealed, and they both prove that Ripple's offering wasn't a security. James K. Filan, one of Ripple's defense lawyers, tweeted that the two unsealed memos proved favorable to Ripple. He further clarified that had the word "ICO" been used in any of the documents in the unsealed memos, Ripple may have been accused of selling securities.
The second memo issued in October 2012 showed that Ripple was careful not to use any term that could trigger an SEC probe at that time or in the future. An event that happened five years before the SEC started intervening in any matter that had to do with digital assets. Filan further states that Ripple executives showed proactiveness in their communication which was hugely important as it tried not to disregard possible risks.