Binary Options Trend Trading Strategy
Trends are recurring throughout all trading charts, whether you're looking at stocks, commodities or currencies. Trends are a focal point of most technical traders toolbox.
The reason trends can be so powerful is because price tends to respect them. If price has formed an uptrend and bounces three separate times against the trend, then odds are more likely than not price will continue upwards and bounce again.
Check out our Personal Trading Experience – Trading With Omega Options Binary Broker For an honest and Genuine Broker Review!
Your chances of succeeding trading binary options are much greater if you understand and examine trend lines. With this said, here's a simple binary options trend trading strategy you can apply to your charts right away.
Finding Trends
In trending markets, finding trend lines on charts with smaller time frames is fairly simple. Trend lines can be drawn manually, such as by connecting the higher lows of an uptrend or the lower highs of a downtrend, or with a technical indicator such as a moving average. Moving averages calculate the average rate of price changes over any given time frame. For this binary options strategy, we will be using the Exponential Moving Average (EMA).
Trend Strategy for Binary Options
Since we're trading binary options we want to capture profits from smaller, intraday price movements. For this strategy, we will use multiple moving averages and look for crossovers between a smaller and larger moving average time frame. Moving average crossovers signal that a change in momentum will soon take place.
Because moving average periods can be adjusted, this trend strategy can work for trades with short and long expiry times. Though it is best to look for signals that occur within the first few hours of the trading day, with expiry times set to the end of the day.
To trade this strategy, you will need the following.
Your chart set to the 30 minute time period
The 5-day, 10-day, and 20-day EMA or SMA (EMA preferred)
An asset allowing an "end of day" expiration
---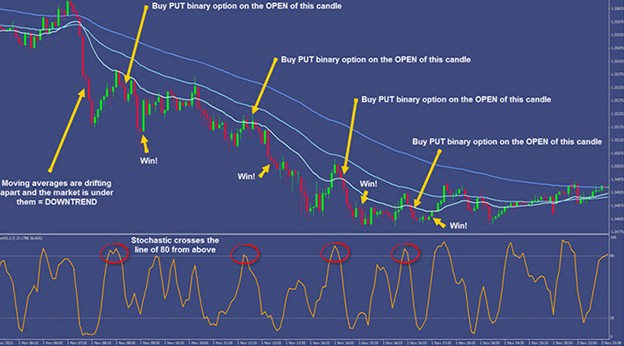 ---
Finding Entries
Entries using this strategy occur when the 5-EMA and 10-EMA have both crossed above or below the 20-EMA. You place a call or put in the direction of the 5 and 10-day EMA's. It's important to note that trades should only be made within the first few hours of a trading session's open to let price get a chance to move in the anticipated direction.
This strategy performs best when an asset is trending at the daily or weekly time frame. In trending markets expect this strategy to perform with 65% – 85% accuracy.